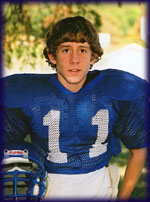 Aaron Rebsamen
October 13, 1987 - May 23, 2002
The purpose of this site is for healing and for us to share our love, stories and thoughts about Aaron.
Aaron loved his friends, sports, music and fishing. He had many "best friends"... different ones suited for whichever activity he was involved with at the time. He had paintball friends, fishing buddies, various basketball team members, music friends... you name it! (The girlfriends we never knew about unless Brandon or Davy said something about Aaron liking someone. He would usually turn a slight shade of red and try not to smile.)
We love hearing stories about Aaron and the funny things he often said and did that only you his friends would know about. Please visit our Guestbook (temporarily disabled) to leave messages to Aaron and to his family. It all helps us in our healing process.
Thank you for your continued prayers for our family.
Bill, Barbie and Stephanie Rebsamen